It's the end of the year already, and it's so hard to believe that 2015 is over. But you know what this means-- the 2015 End of the Year Bookish Survey, hosted for the 6th year in a row by
Jamie @ The Perpetual Page Turner.
(Who also made the button and banners.) She's one of my favorite book blogs! This is my first time filling out the survey, and I'm really so excited. I get to tell you all about my favorite books of this year! Yes, I leave some questions out and obviously some books out. Can't include everything after all!
Number Of Books You Read:
84, of my goal of 50 books!
Number of Re-Reads: 7
Genre You Read The Most From: Fantasy, of course!
Best Book You Read In 2015?
Oh no, just one? Nope. Nope nope nope. Here are my favorite
books
that I read:
Book You Were Excited About & Thought You Were Going To Love More But Didn't?
I was quite disappointed with
Blood Promise
by Richelle Mead, I have to admit. I didn't like it as much as the other books in that series.
Most surprising (in a good way or bad way) book you read?
Tiger's Voyage
by Colleen Houck was so surprising, but I loved it! It was surprising because I wasn't expecting to love it as much as I did. I didn't really like the previous books in the series, but read the third one anyway because I hate leaving series unfinished (bad habit, I know.) Luckily it paid off!
As for book that caught me by surprise with all the plot twists,
Falling Kingdoms
by Morgan Rhodes. I never know what will happen!
Best series you started in 2015? Best Sequel of 2015? Best Series Ender of 2015?
Series Starter:
Falling Kingdoms
by Morgan Rhodes
Series Sequel:
Tiger's Voyage
by Colleen Houck and
Day 21
by Kass Morgan
Series Ender:
The One
by Kiera Cass and
Tiger's Destiny
by Colleen Houck.
Favorite new author you discovered in 2015?
Rae Carson blew me away with her book,
Walk on Earth a Stranger.
I also loved her
Girl of Fire and Thorns
trilogy, which I also read this year.
Special Mentions: Cassandra Clare, Morgan Rhodes, Colleen Houck
Best book from a genre you don't typically read/was out of your comfort zone?
Adult Thriller:
Crisis
by Robin Cook! I actually liked this!
YA Sci-Fi/Horror:
172 Hours on the Moon
by Johan Harstad was mind-blowingly awesome.
Most action-packed/thrilling/unputdownable book of the year?
Oh, this is hard too. I think
Crimson Bound
by Rosamund Hodge was really thrilling.
Book You Read In 2015 That You Are Most Likely To Re-Read Next Year?
The Penderwicks
by Jeanne Birdsall. This was a re-read this year, but I tend to re-read it a lot. It's a middle grade book about four sisters who just have an adventure but not really. Anyway, it's good.
Favorite cover of a book you read in 2015?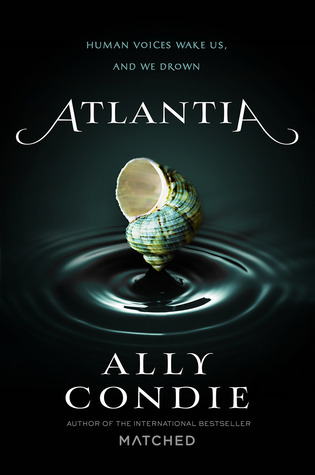 Ally Condie always has beautiful covers, and Atlantia was no exception.
Most memorable character of 2015?
The Penderwicks Sisters from
The Penderwicks
by Jeanne Birdsall. Specifically, Skye and Jane.
Samwise Gamgee from
Lord of the Rings.
Kelsey Hayes from
Tiger's Curse by
Colleen Houck. I hated her at first and then got so attached to her in the third and fourth books.
Book you can't believe you waited UNTIL 2015 to finally read?
City of Bones
by Cassandra Clare! I know, I can't believe it!
Favorite Passage/Quote From A Book You Read In 2015?
Quote:
"A love like yours burned bright like the sun but was always destined to end in darkness."
-A Book of Spirits and Thieves by Morgan Rhodes
Passage:
" ' And people will say: "Let's hear about Frodo and the Ring!" And they'll say: "Yes, that's one of my favorite stories. Frodo was very brave, wasn't he Dad?" "Yes, my boy, the famousest of the hobbits, and that's saying a lot". ' "

" ' But you've left out one of the chief characters: Samwise the stouthearted. "I want to hear more about Sam, Dad. Why didn't they put in more of his talk, Dad? That's what I like, it makes me laugh. And Frodo wouldn't have got far without Sam, would he, Dad?" '

'Now, Mr. Frodo," said Sam, 'You shouldn't make fun. I was serious.'

'So was I,' said Frodo "
-The Two Towers by J. R. R. Tolkien


Shortest & Longest Book You Read In 2015?
Longest:
Inheritance
by Christopher Paolini.
Shortest:
The Twilight Zone: Deaths-Head Revisited
by Mark Kneece. (It was a graphic novel)
Book That Shocked You The Most
Again,
Falling Kingdoms!
It was just so plot-twisty with so much character death.
Honorable Mentions:
Day 21
by Kass Morgan,
Crisis
by Robin Cook,
Vixen
by Jillian Larkin, and
The Diviners
by Libba Bray!
OTP OF THE YEAR (you will go down with this ship!)
Hahaha. Just one?!?! *sob*
Nope. I have to do more than one.
Kelsey/Ren
from
Tiger's Curse
by Colleen Houck
Maxon/America
from
The One
by Kiera Cass
Chaol/Celaena
from
Crown of Midnight
by Sarah J. Maas
Sam/Evie
from
The Diviners
by Libba Bray
Favorite Non-Romantic Relationship Of The Year
Again, I have multiple.
Penderwicks Sisters
from
The Penderwicks
by Jeanne Birdsall
Frodo and Sam
from
Lord of the Rings
by J. R. R. Tolkien
Theta and Henry
from
The Diviners
by Libba Bray
SAPHIRA AND ERAGON
FROM
INHERITANCE
BY CHRISTOPHER PAOLINI I WILL FOREVER BE SCREAMING OVER THIS AMAZING FRIENDSHIP BETWEEN THIS DRAGON AND HER HUMAN OMGGGG
Favorite Book You Read in 2015 From An Author You've Read Previously
Fairest
by Marissa Meyer was particularly twisted and excellent. Levana is so cruel and messed up.
I also enjoyed
Emily of New Moon
by L. M. Montgomery very much! I had read Anne of Green Gables, but this was the first book of hers I've read not in that series and I thought it was so great and heart-wrenching.
Best Book You Read In 2015 that You Read Based SOLELY On A Recommendation From Somebody Else/Peer Pressure:
The Raven Boys
by Maggie Steifvater! I have never been much of a fan of her writing so I was thinking "Ughhh fine but only because Tumblr
always
talks about it..."
And I kind of accidently fell in love with this. Oops?
Best 2015 debut you read?
An Ember in the Ashes
by Sabaa Tahir was
so
worth the hype for me! Greatness and grim Fantasy and freaky masks. Give me all of it. Plus so much shipiness.
Best Worldbuilding/Most Vivid Setting You Read This Year?
Middle-Earth of course. Particularly the Shire. Can I give it to anyplace else, really?
Book That Put A Smile On Your Face/Was The Most FUN To Read?
VIXEN
BY JILLIAN LARKIN UNDOUBTEDLY. It was just so fun and got me out of my reading slump and eurgh yes. Drama in the 1920s with Flapper Girls. What else could be so fun as that?! I do not know.
Book That Made You Cry Or Nearly Cry in 2015?
The Two Towers
by J. R. R. Tolkien. The passage where Frodo is talking to Sam just made me cry buckets, and I never cry at books.
(I included the passage as my favorite of the year so see above!)
Hidden Gem Of The Year?
Well, Jordan Sonnenblick never fails to disappoint. I wish his books got more attention.
Book That Crushed Your Soul?
Tiger's Destiny
by Colleen Houck crushed me in the best way. Just... *still not over it even though I read it in January*
Don't touch me, I am a fragile Bookworm still hurt by these events.
Book That Made You The Most Mad (doesn't necessarily mean you didn't like it)?
Lucky You
by Carl Hiaasen. The villians were sexist, racist, jerks and I hated them so much. Didn't even love to hate them, they just filled me with fury. So that is a solid no.
One Book You Didn't Get To In 2015 But Will Be Your Number 1 Priority in 2016?
Six of Crows
by Leigh Bardugo! I even own this and I've heard of so many great things.
The Dream Thieves
by Maggie Steifvater. Can't wait to continue this series.
Winter
by Marissa Meyer!!! I need to read it!
Magnus Chase and the Gods of Asgard
because Rick Riordan is my favorite.
And I'd like to finish
Jane Eyre
by Charlotte Bronte.
Book You Are Most Anticipating For 2016 (non-debut)?
Flamecaster
by Cinda Williams Chima! Is this even a question for me?!?!
Also, I'm looking forward to
Lady Midnight
by Cassandra Clare (I need to read the rest of the Mortal Instruments and the Infernal Devices first, though...) and
The Crown
by Kiera Cass.
Trials of Apollo
is also very very exciting and something I very much need.
2016 Debut You Are Most Anticipating?
Of Fire and Stars
by Audrey Coulthurst is a YA Fantasy about a princess with magic who falls in love with her fiancé's sister?! Yes, please!
Series Ending/A Sequel You Are Most Anticipating in 2016?
I know I'm only on
Rebel Spring,
but the fifth book of
Falling Kingdoms
is something I really need.
One Thing You Hope To Accomplish Or Do In Your Reading/Blogging Life In 2016?
I'd like to try to blog more than I do! I always say this, but it's true.
---
What were some of your favorite books in 2015? What books are you looking forward to in 2016? Also, if you have a 2015 End of Year survey please leave a link to it because I'm super interested in hearing what books you loved!
Have a very Merry Christmas everyone!