Hey, guys!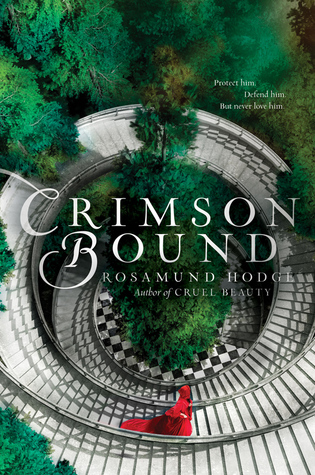 It's Friday again, thank goodness. It felt like a long week but finally it is the weekend. I don't have much planned out. I'm going to the library tomorrow and I hope to get a few books while I'm there. But that's really all I'm doing other than homework, of course.
Currently, I am reading
Cruel Beauty
by Rosamund Hodge, which is a Little Red Riding Hood retelling. I personally love the covers of her books, even though this is the first of hers that I've read. I'm at almost the third chapter, so not too far in, but it's pretty good.
I feel like I'm partly in a reading slump though because I just finished the infamous
Heir of Fire
by Sarah J. Maas and I really, really liked it. Maybe even more than the previous book in the series,
Crown of Midnight.
Now I need to wait until my library gets
Queen of Shadows
, which is the next book, but that won't be for another year or so. The pain of having to wait. Waaah.
I am also sort of reading
You Are Special
by Fred Rodgers (AKA Mr. Rodgers from "Mister Rodgers Neighborhood" which I loved as a kid!) It's not really a book so much as a collection of quotes. I've been bookmarking my favorites, but I'm taking my time with reading it.
Now, as promised in the title, my NaNoWriMo Wrap-Up: I did better than I thought I would! My goal this NaNoWriMo was 108k words by November 30th, and I ended up getting 135k as well as a finished first draft! *cheers for myself*
I never finish first drafts so I was quite pleased.
The last day of NaNoWriMo I was so far from a completed draft. I thought I was still in the middle and wouldn't be able to wrap things up. But then, for some reason, everything just clicked and I sped typed as fast as I could to get it done by midnight that day.
And I did!
At 11:30pm on November 30th, I finished my book for a daily total of 10,333 and a grand total of 135,000. (Well, I got 135,014, but I like to end on even numbers so I went back and deleted 14 words.)
That's really all I have to update you on today. A few minutes ago, I went and read by the fireplace my new book, Cruel Beauty. It felt so cozy especially since it is freezing outside right now. I love the cold weather, but I also love warm fireplaces.
I hope you all have a great weekend filled with great books!
Until next time, happy reading.