So... this is a meme I haven't participated in for awhile!
Musing Mondays, hosted by A Daily Rhythm
is hosted every Monday (obviously) and asks you to answer one of the
following questions:
Up next I think I'll read…

I bought the following book(s) in the past week…

I'm super excited to tell you about (book/author/bookish-news)…

I'm really upset by (book/author/bookish-news)…

I can't wait to get a copy of…

I wish I could read ___, but…

I blogged about ____ this past week…
As well as the random question of the week:
THIS WEEK'S RANDOM QUESTION: Do you read more than one book at once? Why, or why not?
---
I'm currently reading...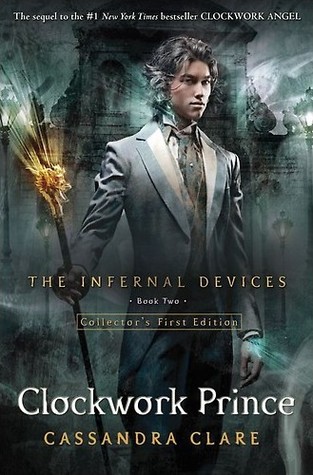 Clockwork Prince, by Cassandra Clare
It's hard for me to say what I think about it so far. I'm about 350 pages through, if I'm remembering correctly, and I still have mixed feelings. I think it was a bad idea to try to read The Infernal Devices coming off of a Mortal Instruments hangover, because now I can't focus on any of these new characters. I just want to know what happens in City of Heavenly Fire! I think it might be more well-written than The Mortal Instruments, but I just cared more about the characters in The Mortal Instruments. I could change my mind though, in Clockwork Princess! (I'm Team Will by the way!)
Do you read more than one book at once? Why, or why not?
I am only able to read more than one book at a time if it's for school purposes. If I have one book to read on my free time/a book I enjoy, and then one book that's for required reading, I generally find I have to read two at a time to keep myself sane!
Under normal circumstances, I have difficulty fully investing myself in a world if I'm reading two books at once! I'm jealous of people who can do this with no problem. And I also wish I could be able to keep all of the details from the books straight in my head, but I guess it just isn't meant to be.
---
I hope you all had a lovely Valentine's Day, and if you are in the U.S., I hope you enjoyed the day off today. Have a great week, and let me know what you're currently reading, if you want to!