This review is posted on my goodreads account here: https://www.goodreads.com/review/show/1054856378
I wanted to post it on this blog too, because I'm proud of it haha. Plus, I'm trying out a new, less formatted style of review for this book.
MINOR SPOILERS??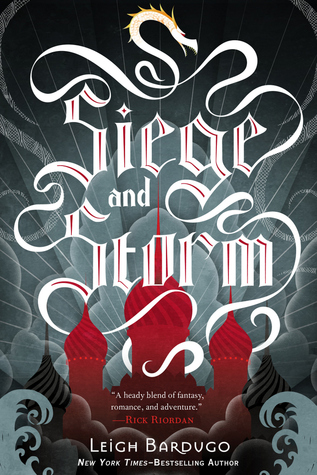 Siege and Storm is the second book in the Grisha Trilogy by Leigh Bardugo. I finished it on September 18th, 2014.
My rating is 4.25 because of reasons.
This first reason is because this book was so much better than the first book in the series. There were still a few points in the middle where personally I got through rather slowly, but that's more of a personal problem than a problem with the book.
This took me eleven days to get through, probably difficult with school just starting up. Lots of homework, less time for reading, but it still wasn't quite at the level of hooking where I was putting my reading above everything else.
I did like the characters though, both Mal and Alina were very well thought out, and showed a lot of character growth throughout this book. It was interesting to see how Alina has changed from the beginning of the first book, where she denied having powers and despised being unique, to the end of the second book where she says she would never give up her Grisha abilities. It shows that the events of the trilogy thus far truly have changed her.
The setting was very in depth, I felt like it could have had a bit something more, for example a bit more explanation about who the Fjerdians are, and why they have such a rivalry, and so on but overall it was satisfying.
The plot was steady, I felt like it maintained a steady pace throughout, there were some exciting parts and others that weren't quite as exciting, but it was all quality matireal.
It left me wondering at the end of the book: where's Nikolai? What happened to him? And what ended up happening with Baghra, where is she? Why did Genya change in appearance so much? Why did Alina? And most of all, how will this all end?
I guess I'll just have to pick up the last book to find out!
Thanks for reading. Do you think I should post my Shadow and Bone review on my blog as well, or leave it on my Goodreads? You can find more of my reviews on my Goodreads account, here.