Hullo again, all! I'm here just in time for another Top Ten Tuesday, which as always is hosted by the lovely ladies at
Broke and Bookish blog
. Today's topic is... Ten Books I Plan To Have In My Beach Bag This Summer or Ten Books I Think Make Great Beach Reads.
Without further ado...
----
First to make this list is Magnolia by Kristi Cook. I've never read this one before, but it sounds

like it's a contemporary about a girl and a boy whose families have been neighbours for decades. Now, they want the two main characters to fall in love but the girl and boy have different plans. This was one I accidentally stumbled upon, but it actually sounds really good.
Since You've Been Gone by Morgan Matson is second to make my list. This is another one that I have yet to read, though I've heard amazing things about this one. It's another YA contemporary novel, but I personally think those are the best kind of books for the beach. (Well, except for dragons. Dragons win everything.)
Second Chance Summer is also by Morgan Matson, and is another one that I haven't yet read (but badly want to). This one sounds like a deeper, more serious book, and it sounds like it's going to hit home with me. Another one where I've heard nothing but

good things.

4. I'm changing it up a bit with Defy by Sara B. Larson. This is the first book in a YA fantasy trilogy that I have not yet read, but it sounds amazing. It sounds like a girl who dresses up as a boy to fight in a war, so I'm crossing my fingers it'll be good. Plus, it's in the Swords and Sorcery sub-genre and that is my favourite. It hasn't been getting the best reviews on Goodreads, but I'm hopeful. I'M HOPEFUL.

5. Magic of Thieves by C. Greenwood is another Indie YA Fantasy, that is also the first book in a (longer... six-book!) series. Now, I haven't read it and don't know much about it, but I do know that it takes place in an original world where magic is banned. Gasp. And the main character, a girl named Ilan, happens to possess the gift of magic. It's free on Amazon for an eBook copy, so I figured it wouldn't hurt to check it out. Plus, the cover looks just plain awesome. I mean, look at it. Is that a flaming bow that she has there?

Pretty Cover of Magic of
Thieves.
6.
Now I'll move on to the books that I have actually read! The first couple are rather... mixed in opinions, but they'll be in my beach bag of books anyway. And the first is
The Selection
by Kiera Cass. I know, I know! I have no idea why I like this book so much, but I do. And it's fluffy enough to be the perfect summer read. Definitely a guilty pleasure read.
7.
The next and last of my mostly-disliked-by-readers books is
The 100
by Kass Morgan. Everyone is probably just about ready to come at me with Ilan's flaming arrows just about now, but before you think I have a bad taste in books, let me explain. This one doesn't require much thought at all, and it's just a good time. Did I love the romance in this book? No, but I'm reading the sequel currently and I think the romance has improved. For me, it's the same situation as with the Selection. Easy and fun to read, and perfect for a day on the beach.
8.
I'm taking a sharp turn left here and including one of my most favorite classics in my beach bag:
20,000 Leagues Under the Sea
by Jules Verne. This one, obviously, takes place under the sea, and when I think of the beach, I think of this book. I can't help it! First of all, it's a great book that I definitely am due to re-read, and second of all, perfect to re-read near the ocean itself!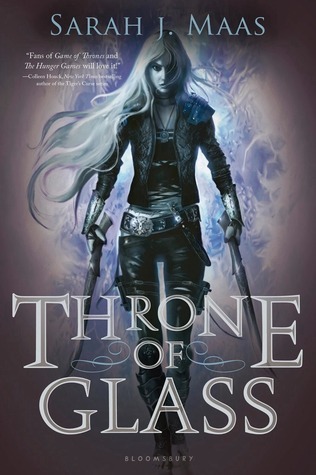 9.
In a return to Fantasy (let's be real, I can't stay away for long), I have
Throne of Glass
by Sarah J. Maas. This one is cool because it's the first in a six-book YA series of high fantasy action, romance, and intrigue. It follows a teenage assassin (as featured on the cover), who was imprisoned in salt mines to work, but has a shot at freedom by entering a competition for the king. If she wins, she gets to be the King's personal assassin. I thought it was really good, and would love to read it to the sound of waves on the shore.
10.
And now, combining both classics and fantasy, the last book in my beach bag will be
The Hobbit
by J. R. R. Tolkien. This is my favorite book of all time and I desperately need to read it after seeing the final movie last January. It just is such a heart-warming adventure, and the riddles scene with Gollum is definitely one of my favorite scenes in all of Middle-Earth.
That concludes my first Top Ten Tuesday in a very long while. Are any of these books in your beach bag? If not, which books are you including? Hope you liked this post, and I'll see you next time!